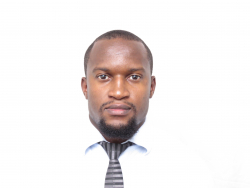 Biography
Dr. Gerald Musa is a Zambian medical doctor currently in Russia pursuing a masters of medicine in Neurosurgery and Neurological diseases at the Peoples friendship University of Russia (RUDN). He is working in the department as an assistant lecturer. He has a passion for mentoring young undergraduate medical students. Outside official working hours, he offers free evening academic and mentorship discussions to medical students.
Dr. Musa attained his Bachelor of Medicine and bachelor of surgery from the university of Zambia school of medicine in 2015 with honors. He worked at the Livingstone Central hospital in Zambia where he served as secretary general of the local Resident Doctors Association. In 2018, Dr. Musa served as the medical director of Maamba General hospital. During this period, he facilitated a lot of positive reforms including up scaling of maternal and new born services, TB and HIV programs and outreach programs to the distant smaller villages. Being a certified fitness trainer and passionate about elimination of Noncommunicable Diseases (NCDs), he also introduced health care workers fitness programs to prevent NCDs among health workers.
Apart from the day-to-day hospital work, Dr. Musa during his time in Livingstone was involved in fundraising programs and providing for the underprivileged, old people and the orphans. He has also been involved in organizing free medical services in the outskirts and villages where medical care is limited or not readily available. He is currently a sponsor and partner of Kuwa girls' initiative, a Non-profit organization whose main goal is preventing teenage pregnancies and young female empowerment in Zambia.