event
UNEP SPARK Role of Academics and Academies of Sciences in Strengthening Science Policy Interfaces
MAPBOX
2022 marked 50 years since the United Nations Conference on the Environment. At the first special session of the United Nations Environment Assembly (UNEA) commemorating fifty years since the establishment of the UNEP@50, countries discussed UNEP's role in the Science-Policy Interface, reflecting on past successes and considering the challenges ahead.  
In support of this, the Law Division of UNEP launched the Science Policy Actions for Redefining Knowledge (SPARK) programme. This is a knowledge-sharing series set to bring diverse expertise from a number of stakeholders, including indigenous people and local communities and others, to discuss emerging issues under SPI and options for strengthening SPI at different levels in support of better environmental management and governance. The SPARK events are held once every quarter, in a hybrid mode, focusing on specific themes.  
The Second SPARK webinar will focus on 'The Emerging Role of Academics and Academies of Science in Strengthening Science - Policy Interfaces'.
Date: Tuesday, 23 May 2023                                     
Time: 3.00 pm - 4.30 pm EAT         
Opening remarks:  Patricia Kameri-Mbote, Director, UNEP Law Division  
Moderator:  Balakrishna Pisupati, Head, Environment Policy Unit, UNEP
The expert speaker at the session include:
Dr. Salvatore Arico, CEO of International Science Council (ISC),
Dr. Prof. Asma Ismail, Principal Science Advisor to Prime Minister of Malaysia & Co-Chair of the InterAcademies Partnership (IAP) of The World Academies of Sciences (TWAS) and former President of Malaysian Academy of Sciences,  
Dr. Soumya Swaminathan, Chairperson, M S Swaminathan Research Foundation, India and the former Chief Scientist of the World Health Organization (WHO).
Click Here to Register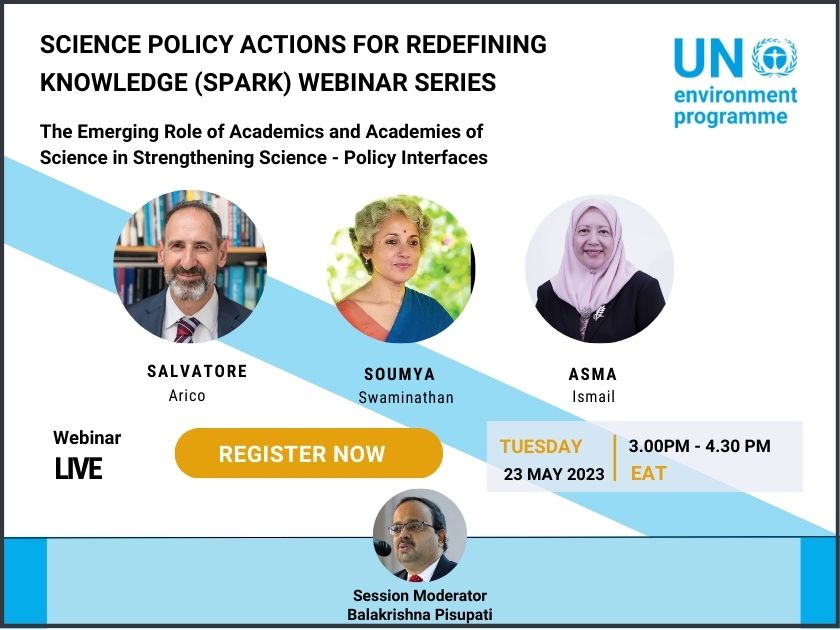 CONTACT PERSON
Balakrishna Pisupati
balakrishna.pisupati@un.org