event
Workshop on the utility, feasibility, security and ethics of verifiable COVID-19 credentials for international travel
MAPBOX
What are the opportunities and challenges for COVID-19 verifiable credentials to improve safe international travel?
On August 3-5, 2021, the National Academies of Sciences, Engineering, and Medicine will host a three-day workshop titled Utility, Feasibility, Security and Ethics of Verifiable COVID-19 Credentials for International Travel. The workshop will explore issues that need to be addressed to have effective, feasible and secure ways to document and provide health information before international travel, and to ensure the request is ethical and does not exacerbate inequities. Speakers from domestic and international governments, multilateral health and business organizations, academia and private and nonprofit sectors will contribute their perspectives.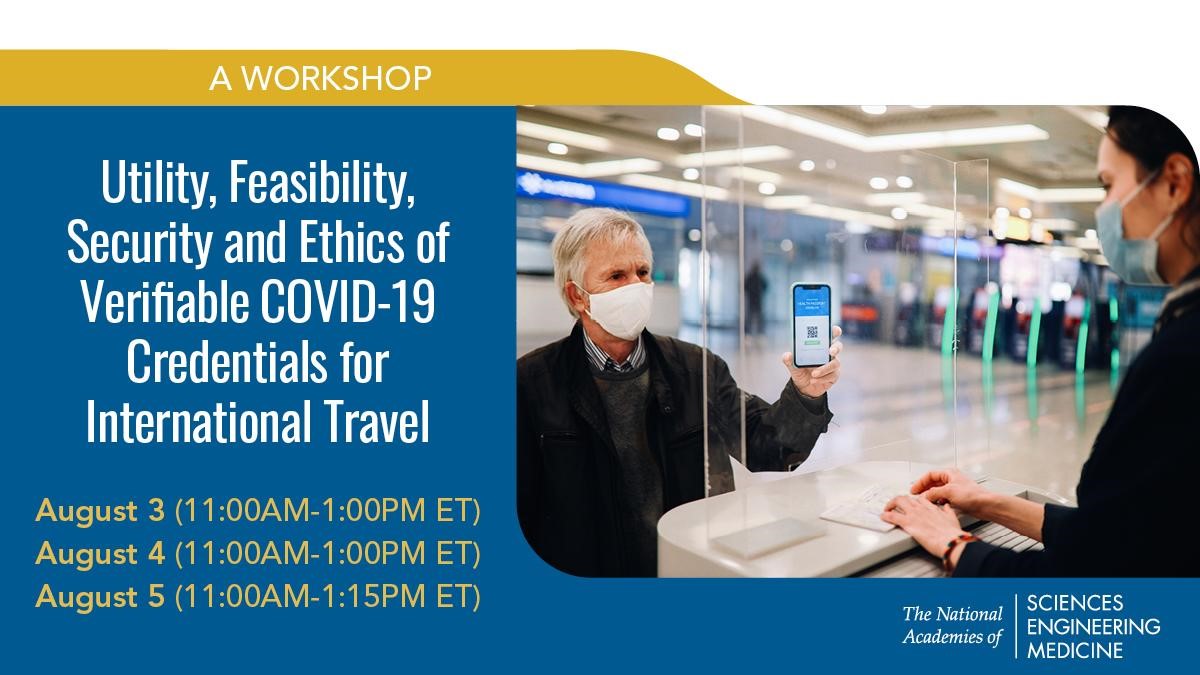 Day 1 (August 3): 11:00AM - 1:00PM EDT
Day 2 (August 4): 11:00AM - 1:00PM EDT
Day 3 (August 5): 11:00AM - 1:15PM EDT
Presentations and discussions will focus on the following topics:
Scientific evidence of vaccination effectiveness in decreasing transmission of disease;
Public health impact of limiting international travel to vaccinated passengers;
Uncertainties in duration of vaccine-induced immunity and the risk posed by new variants;
Standardization of acceptable vaccines between countries and regulatory requirements;
Legal considerations of requiring vaccines that have not been approved by host country or the World Health Organization;
Ethical, legal and practical considerations in mitigating negative effects of global inequalities that requiring vaccines for travel will exacerbate;
Validity of vaccine passports, security and privacy of health information, and need for universal interoperability;
Impact on international businesses and tourism.
Click here to register. Visit the website for the agenda and more information.