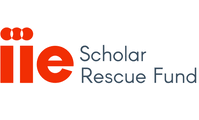 Fellowships for Threatened Scholars
There are more threatened and displaced scholars today than ever before. The Institute of International Education's Scholar Rescue Fund (IIE-SRF) can help.
IIE-SRF announces its next round of applications from professors and researchers facing threats to their lives or careers. Fellowships support temporary academic positions at universities and other higher education institutions anywhere in the world where the scholars can continue their academic work in safety.
IIE-SRF formalizes IIE's unwavering commitment to protect the lives, voices, and ideas of scholars around the globe. Since the program's founding in 2002, it has awarded fellowships to 777 scholars from 59 countries, arranging visiting academic positions at more than 380 partner institutions in 43 countries.
For eligibility criteria and application instructions, see here.
Deadline for applications is 5 November 2018.