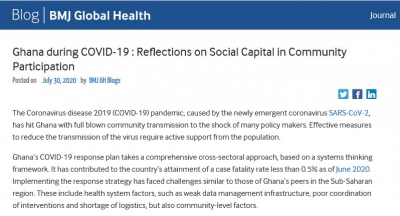 Ghana during COVID-19 : Reflections on Social Capital in Community Participation
Read a blog post by IAP YPL Alumna Mary Eyram Ashinyo on BMJ Global Health
Mary Eyram Ashinyo, an IAP Young Physician Leaders (YPL) alumna, wrote a blog post on BMJ Global Health.
The Coronavirus disease 2019 (COVID-19) pandemic, caused by the newly emergent coronavirus SARS-CoV-2, has hit Ghana with full blown community transmission to the shock of many policy makers. Effective measures to reduce the transmission of the virus require active support from the population.

Ghana's COVID-19 response plan takes a comprehensive cross-sectoral approach, based on a systems thinking framework. It has contributed to the country's attainment of a case fatality rate less than 0.5% as of June 2020. Implementing the response strategy has faced challenges similar to those of Ghana's peers in the Sub-Saharan region. These include health system factors, such as weak data management infrastructure, poor coordination of interventions and shortage of logistics, but also community-level factors.
You can read the full post here.