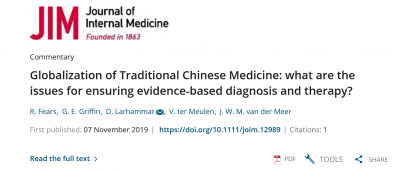 Globalization of Traditional Chinese Medicine: what are the issues for ensuring evidence‐based diagnosis and therapy?
An EASAC commentary article on the Journal of Internal Medicine
The International Classification of Diseases (ICD) coding tool of the World Health Organization is an influential and essential part of disease diagnosis. The recently proposed revision, ICD‐11, brings some important reforms for medical practice, for example for the classification of mental health disorders 1. However, for many clinicians and scientists, the revision of ICD‐11 also brings a major problem in that it adds a chapter on Traditional Chinese Medicine (TCM).
You can read the full article here.