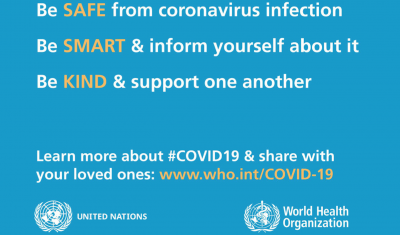 IAP stands side-by-side with science in the fight against coronavirus
The COVID-19 pandemic affects us all
The current outbreak of coronavirus disease (COVID-19) was first reported from Wuhan, China, on 31 December 2019. On 11 March 2020 the World Health Organization (WHO) declared a pandemic.
"Pandemic is not a word to use lightly or carelessly. It's a word that, if misused, can cause unreasonable fear or unjustified acceptance that the fight is over, leading to unnecessary suffering and death" said Dr WHO Director-General Tedros Adhanom Ghebreyesus during one of his daily press conferences. 
"We're in this together to do the right things with calm and protect the citizens of the world. It's doable" he added.
In the last weeks fake news and misinformation have spread rapidly both online and offline, so it is of utmost importance to read and share only information backed up by science.
Today it is key to stay aware of the latest information on the COVID-19 outbreak, available on the WHO website and through national and public health authorities. The WHO website section dedicated to the outbreak includes not only pages devoted to daily updates, situation reports, travel advice, media resources, technical guidance and research and development, but also Q&As and myth-busters. Furthermore, the interactive map of WHO's COVID-19 dashboard shows always up-to-date information regarding countries, areas or territories with cases, and the training and learning section contains learning modules developed as a companion to the Operational Planning Guidelines to Support Country Preparedness and Response.
The COVID-19 outbreak is affecting our work too (members of the IAP Secretariat based in Trieste, Italy, and Washington DC are teleworking from home) but we are confident that the Secretariat will continue to function as close to normal as possible.
Still, IAP had to cancel or postpone some events that should have taken place in the coming weeks, such an IAP Executive Committee meeting in Rome, Italy, an IAP SEP Global council meeting in Washington DC, and two IAP YPL events linked to the upcoming World Health Assembly in Geneva, Switzerland, and the World Health Summit Regiona Meeting in Kampala, Uganda.
More and more national and international science meetings are being cancelled day by day - so participants are advised to keep checking for updates before travelling. The Scientist online magazine hosts a collection of regularly updated news reports, including a list of cancelled scientific meetings, and other trusted sources of news are The Gobal Health Network, The Lancet, Science, CDC, and the US National Academy of Medicine's website.
The M8 Alliance of Academic Health Centers, Universities and National Academies are sharing studies, insights and documents on the website of the World Health Summit.
Meanwhile, many academies are providing evidence-based scientific advice on the outbreak to government and other stakeholders (for instance: ASSAf Statement on the Implications of the Novel Coronavirus in South Africa), and IAP Young Physician Leaders Alumni are working hard to fight COVID-19 (Zaamin Hussain is working on using machine learning for rapid triaging of Covid-19 at the front door of hospitals, and is seeking to collaborate with clinicians globally who have access to laboratory data of patients with coronavirus).
Research is key when it comes to face an outbreak and IAP, the UK Academy of Medical Sciences, and the Medical Research Council, recently launched a workshop report on interdisciplinary research in epidemic preparedness, a topic of high relevance as the world watches this outbreak unfold.
"The current coronavirus epidemic clearly demonstrates that this publication is very timely. Across four key phases – 'prepare', 'prevent', 'respond' and 'recover' for any potential epidemics, multi- and interdisciplinary cooperation research should be facilitated to meet needs," said Depei Liu, IAP co-President and co-chair of IAP-Health.
"The recommendations towards multidisciplinary research presented in the report point a way to a safer future for us all" he added.