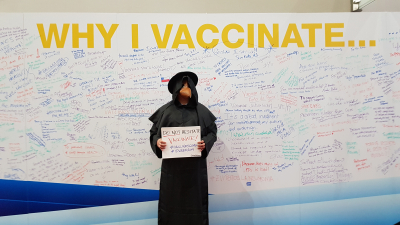 IAP YPL Alumnus Edsel Salvana featured on Forbes Magazine
He dressed up as plague doctor to call attention to polio and measles outbreaks in the Philippines
"Why did this physician dress up in a creepy beaked mask at a conference in Washington DC?" is the title of a recently-publised Forbes article that features Edsel Salvana, who was selected in 2013 as IAP Young Physician Leader (YPL).
Salvana was spotted at the Infectious Diseases Week dressed up as plague doctor.
"I really wanted to call attention to the recent polio and measles outbreaks in the Philippines. Plague doctors were active in the 16th century, and the diseases we are dealing with in the Philippines are completely outdated diseases which shouldn't happen if we had done a good job with vaccination," he told Forbes.
"Despite being a scary, ominous costume just like the diseases it tried to protect against, the plague mask and costume wasn't very effective. We really should stick to the tried and true strategy of vaccinations, which has already eliminated smallpox, and is coming close for polio in places where vaccination rates remain high," he explained.
"I think as doctors and scientists, we need to engage in the larger battle of social media and mainstream media. For too long, the antivaxxers have exploited these tools without much push back from scientific institutions. I think this is because scientists are generally media-shy, but also because we underestimated the impact of antivaxxers exploiting these avenues," he added.
Today Salvana is director of the Institute of Molecular Biology and Biotechnology at the National Institutes of Health in the Philippines and is a well-recognised infectious diseases expert. In 2013 he attended the IAP YPL workshop – an experience that had a profound impact on his life.
"Being selected as a YPL has meant that more will always be expected of me, both as a professional and as an individual," he says.
"Physicians are already seen as academic leaders in their respective fields, but the recognition above and beyond the usual expectations has given me the drive to not only exceed academically but look at the larger impact of my work on society. It has made me push the envelope and look for ways to improve the human condition," he emphasised.
"If this includes putting on a costume to convince people that vaccines are important," he concluded, "then I embrace the challenge and look forward to more novel ways in which we can save lives."