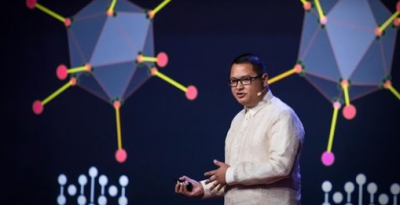 IAP YPL Alumnus elected as TED2020 Senior Fellow
Edsel Salvana joins the 2020 class of TED Fellows and Senior Fellows
IAP Young Physician Leaders Alumnus Edsel Salvana is among the new group of TED2020 Fellows and Senior Fellows. TED is a nonpartisan nonprofit devoted to spreading ideas, usually in the form of short, powerful talks, and this year's class represents 13 countries across four continents.
"[T]his year's fellows are making strides in an impressive range of fields — from astrobiology and ethnomusicology to maternal healthcare and beyond. This group is taking a hard look at the world's most pressing issues and offering bold, fresh ideas to create meaningful impact" explains a TED blog post. 
Edsel Salvana is a physician studying the genetics of HIV, developing an affordable test for HIV drug resistance and fighting the spread of misinformation around vaccines and immunization. He has been selected as TED2020 Senior Fellow, which means he will attend additional TED events, mentor new Fellows and continue to share his work with the TED community.
"As shown by the current situation with the proliferation of fake news in an outbreak environment, the availability of high quality information is essential to reassuring the public at large. Scientists and physicians need to be skilled in disseminating the correct information and also be proactive in refuting fake news," Salvana explained.
"As a TED fellow and IAP alumnus, I have taken an active role in communicating to the public in order to offer near-real time advice and reactions to new information, particularly items that can be misleading. As a Senior TED Fellow, I look forward to learning more communication skills to increase the impact of my scientific advocacy for the greater good," he added.
As explained in the TED blog, "[t]he TED Fellows program supports extraordinary, iconoclastic individuals at work on world-changing projects, providing them with access to the global TED platform and community, as well as new tools and resources to amplify their remarkable vision."
You can see Edsel Salvabna's TED talk "The Dangerous Evolution of HIV" here: