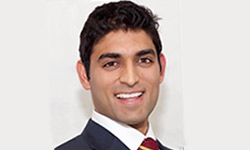 IAP YPL alumnus on Forbes' 30 Under 30 - Healthcare 2020
Young Physician Leader Zaamin B. Hussain gets recognition for his work on low-cost prosthetic limbs
The business magazine Forbes choose 600 young Innovators in 20 industries to be part of its Top Young Entrepreneurs Of The Forbes Under 30 2020 List. Among them (in the Healthcare section) there is YPL alumnus Zaamin B. Hussain. Zaamin was selected in 2018 as IAP Young Physician Leader (YPL), and participated in the tailored workshop on leadership that since 2011 has provided more than 200 outstanding young health professionals with the skills they need to promote health and strengthen health systems around the world.
"The Young Physician Leaders programme was an experience of enormous personal growth. Every day I still implement a lot of the leadership skills that I learnt on the course" he says.
"It has allowed me to be more confident in the roles I have taken on since and it will continue to shape the type of leader I become in the future. I now also have friends for life across the world and we are still in touch and regularly ask each other for advice. I would do it all over again in a heart beat! I am very grateful to IAP for the opportunity" he says.
Zaamin is currently living in Boston, doing a masters of education at Harvard University with a focus on medical technology, while building a lower limb rehabilitation device at MIT. He also has a research position at Boston Children's Hospital and Harvard Medical School in Orthopaedic Surgery, where he is investigating and hoping to improve clinical outcomes in pediatric musculoskeletal disorders.
Forbes describes its list as "wake-up call to cynics who think they have seen it all" and the "young, creative and bold minds on this year's 30 Under 30 list" as "proof positive that the future will be new, exciting and profoundly different".
What caught the attention of Forbes is the focus of Hussain's research: using advanced technology to make life easier for amputees, those with physical disabilities, and those who have suffered injuries.
"He's worked with organizations that provide low-cost prosthetic limbs to amputees in developing countries, and his work has appeared in a number of relevant journals" notes the magazine.
"I was trudging through the snow when I found out" says Zaamin recalling the moment he discover he was in Forbes' list. "I was so surprised that I became rooted to the spot" he adds.
"After a few minutes - I couldn't feel my phone any more! I thought they had made a mistake! Such a great honor to be listed among these immensely talented individuals that are challenging the status quo in all disciplines of life". 
You can check Zaamin's profile of Forbes here.