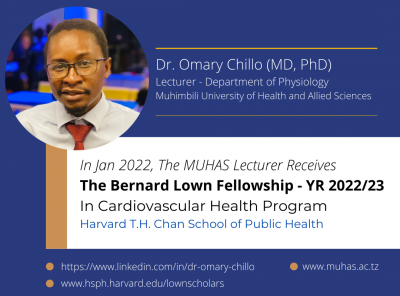 IAP YPL alumnus Omary Chillo joins the Bernard Lown Scholar in Cardiovascular Health Program 2022-23
Chillo was selected in 2017 for the IAP Young Physician Leaders (YPL) programme
IAP Young Physician Leaders (YPL) alumnus Omary Chillo will join the Bernard Lown Scholar in Cardiovascular Health Program 2022-23 at the Department of Global Health and Population Harvard T.H. Chan School of Public Health.
His research will investigate different aspects of the urban built environment that are pertinent to understanding the cardiometabolic risk factors among urban poor.
The Lown Scholars Program was established in honor of Dr. Bernard Lown, a world-renowned cardiologist and activist, whose career has advanced public health globally. The Program is designed to create an international cadre of talented health professionals who will use public health tools and strategies to prevent cardiovascular diseases and promote cardiovascular health in developing countries, as defined by the United Nations.
Since its establishment in 2008, the Lown Scholars Program has supported the work of more than seven dozen Lown Scholars from Asia, Latin America, Africa, and the Middle East. The support has facilitated productive and long-term collaborations between the Scholars and Harvard T.H. Chan School of Public Health faculty members.