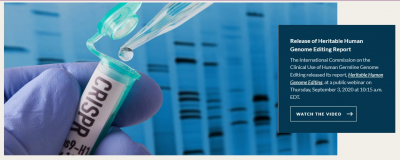 The International Commission on human germline genome editing discusses its new report
Biotechnology & Biosecurity
The 1-hour virtual session will take place on 12 October on Zoom
The International Commission on human germline genome editing would be delighted to discuss its new report, Heritable Human Genome Editing, with you or representatives from your academy at a special virtual session. Commission members Kay Davies (Oxford University), Richard Lifton (Rockefeller University), Michèle Ramsay (University of the Witwatersrand), and Haoyi Wang (Institute of Zoology, Chinese Academy of Sciences) will open by presenting the report's key messages and recommendations. This will be followed by time for questions and discussion.
The 1-hour virtual session will take place on Monday 12 October at 9am US & Canada ET / 2pm UK / 3pm Europe & S. Africa/ 9pm China & Malaysia / 11pm Australia. Connection information is below. Please kindly confirm whether you or a colleague from your academy will take part in the meeting as this will assist us in knowing who to expect.
Jointly convened by the US National Academy of Medicine, the US National Academy of Sciences, and the UK's Royal Society, the International Commission included 18 members from 10 countries. The Commission's report assesses potential benefits, harms, and uncertainties associated with genome editing technologies and defines a translational pathway from rigorous preclinical research to initial clinical uses, should a country decide to permit such uses. The report recommends that human embryos whose genomes have been edited should not be used to create a pregnancy until it is established that precise genomic changes can be made reliably and without introducing undesired changes—criteria that have not yet been met. The report specifies stringent preclinical and clinical requirements for establishing safety and efficacy and for undertaking long-term monitoring of outcomes. It calls for extensive national and international dialogue before any country decides whether to permit clinical use of heritable human genome editing and identifies essential elements of national and international scientific governance and oversight.
To receive connection information, please contact Dominic LoBuglio at the U.S. National Academies (DLoBuglio@nas.edu).