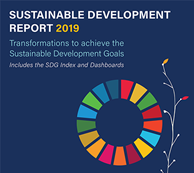 Latest assessment of global progress on implementing the SDGs
The 2019 SDG Index and Dashboards Report has just been published (https://www.sdgindex.org/).  It shows that targets are not being met and reinforces the vital importance of engaging on this agenda at global, continental, national and local levels.  Much more needs to be done.
You can find out how well your region and country are doing in their implementation of the UN's Sustainable Development Goals using interactive country dashboards (https://dashboards.sdgindex.org/#/). These provide a visual representation of each country's performance by SDGs to identify priorities for action.