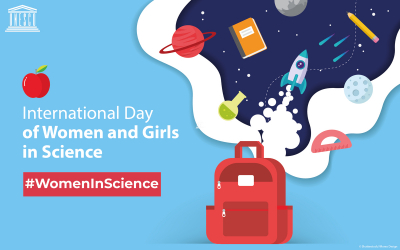 Let's celebrate the International Day of Women and Girls in Science
IAP recognises the power, contributions and importance of women and girls in science
The International Day of Women and Girls in Science, celebrated on 11 February, is an opportunity to promote full and equal access to and participation in science for women and girls. They do not only play a pivotal role in advancing science: they are also critical members of science, medicine and engineering academies all over the world, and the InterAcademy Partnership (IAP) has identified Women in Science as an important theme.
"Today, so many of the pressing problems before us require that science and technology be effectively harnessed to make a difference. Success will depend on a scientific workforce that is both scientifically sophisticated and diverse," says IAP Health co-chair Peggy Hamburg.
"At this critical time, we must advance women and girls in science, technology, engineering, and mathematics (STEM), by empowering innovators, supporting their pursuit of scientific careers, and inspiring the next generation of STEM professionals. This is vital for all our futures," she highlights.
"Humanity needs more and diverse minds in science and engineering in order to ensure our childrens' and our planet's future by the attainment of the Sustainable Development Goals - thus we need to encourage and support women and girls to become scientists and engineers," adds IAP Science co-chair Cherry Murray.
IAP and all the four IAP Regional Networks have been actively engaged on deliberations relevant to their regions.
On 29 October 2018 the Special Committee on Women In Science and Engineering of the Association of Academies and Societies of Sciences in Asia (AASSA) launched the book, 'Profiles of Women Scientists in Asia: Their inspirational stories'. The report profiles 50 researchers across AASSA membership countries in a celebration of the dedication, passion and resilience of women in science throughout the region.
The collection presents the moving stories of women pioneers who encountered biases and frustration, who overcame various difficulties and obstacles in their careers and personal lives, and who finally succeeded in achieving great accomplishments in their pursuit of science. It is also a collection of inspiring, trail-blazing stories that it is hoped will inspire more young women and girls to follow these pioneers into science and technology fields.
As AASSA President, Yoo Hang Kim, wrote in the book's foreword: "Just as these pioneers had their own mentors and role models who discovered their talent and encouraged and guided them in their scientific careers, the 50 women scientists profiled in this report will become role models themselves for the future generation of young girls in their pursuit of science."
The preparation and publication of the book was funded by IAP and AASSA and managed by the Australian Academy of Science. It adds to a series of publications on the same theme developed by IANAS ('Women Scientists of the Americas. Their inspiring stories') and NASAC ('Women In Science – Inspiring Stories from Africa').
The International Day of Women and Girls in Science, celebrated on 11 February, is implemented by UNESCO and UN-Women.
Join us in celebrating women and girls, who are leading innovation and call for actions to remove all barriers that hold them back (join the conversation with #WomenInScience on Twitter)!