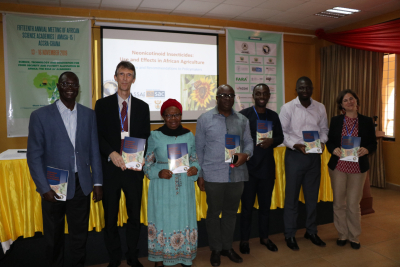 Neonicotinoid Insecticides: Use and Effects in African Agriculture
Agriculture & Food Security
The new study by IAP and NASAC was presented in Ghana during AMASA15
The study 'Neonicotinoid Insecticides: Use and Effects in African Agriculture. A Review and Recommendations to Policymakers' was launched on 12 November 2019 in Accra, Ghana, during the Annual Meeting of African Science Academies (AMASA-15). The InterAcademy Partnership (IAP) and the Network of African Science Academies (NASAC) collaborated in a study to examine the implications of neonicotinoid insecticide use for ecosystem services and sustainable agriculture in Africa.
80 academy representatives and about 10 representatives of the Ghanaian Cocoa Board attended the session. Prof Peter Kwapong from the University of Cape Coast and representative of the UN BES-Net Anglophone Regional Trialogue presented on 'Land degradation neutrality, pollinators, and food security'. Peter McGrath, IAP Coordinator, made introductory comments explaining the role of IAP and NASAC in this project. The panel was also joined by Mrs Victoria Adongo, Executive Director of the Peasant Farmers' Association of Ghana, Dr. Emmanuel Agyemang Dwomoh, Deputy Chief Executive of the Cocoa Board, Mr Ernest Osei Assibey from the Pesticide and Fertilizer Regulatory Division of the Ministry of Food and Agriculture, and Dr Kofi Frimpong-Anin from the Centre for Scientific and Industrial Research, Ghana's largest research institution.
Following a presentation on the Ghanaian situation by Dr Enock Dankyi (University of Ghana),  EASAC's Nina Hobbhahn introduced the report. Subsequently, the stage was open for questions.
"We had about an hour filled with questions to which the panel responded in a very productive and disciplined manner, a particularly impactful contribution from the Executive Director of the Peasant Farmers' Association emphasizing that peasant farmers are very much noticing and commenting on the decline of insect species in Ghanaian agricultural landscapes, and numerous questions from the audience," said EASAC's Nina Hobbhahn.
"The audience was very appreciative of the interactive session and we got lots of compliments afterwards for the interesting programme. It was very nice to see that everybody was very attentive and engaged throughout this Session" she added.