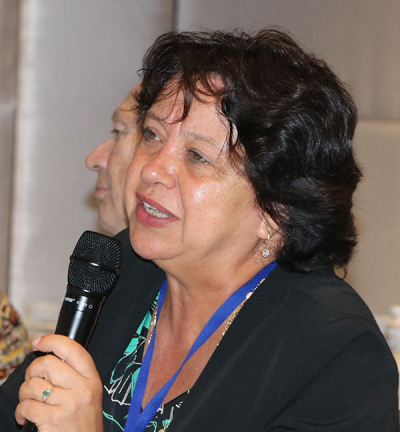 New chair for IAP science education
Wafa Skalli (Morocco) takes over as chair of the IAP Science Education Programme
At the close of the recent meeting of the Global Council of the IAP Science Education Programme (SEP), Wafa Skalli of Morocco was affirmed as the new chair of the Global Council, with her academy, the Hassan II Academy of Science and Technology, taking over as the lead academy.
Skalli replaces Mustafa El Tayeb of the Sudanese National Academy of Sciences who stepped aside due to a combination of circumstances, including the ongoing political situation in Sudan. He will continue as Immediate Past President on the IAP SEP Global Council.
The meeting, held in Bangkok, Thailand, and hosted by the Thai National Science Museum during the National Science and Technology Fair, was chaired by Dato Lee Yee Cheong (Malaysia), chair of the Global Council from 2013-2018, who accepted to act as interim chair until the time of the meeting in El Tayeb's absence. Cheong now joins other eminent experts in science education as part of the SEP's International Advisory Board.
Also appointed to the IAB during the meeting was Wang Xiaoming, director general of the Shanghai Science and Technology Museum, China, who gave a keynote presentation at the 'Policy Forum on Science Literacy: Roles of science museums and science centres' that immediately preceded the Global Council meeting.
Skalli herself is a mechanical engineer with a strong research track record in biomechanics. Based in Paris, she is a corresponding member of the Hassan II Academy of Science and Technology, Morocco.
In parallel with her academic activities, Skalli is the founding president of the 'Relais Instruction education Maroc' (RIM), an organization that contributes to access to knowledge and education in Morocco in a spirit of openness and tolerance.  RIM is involved in pre-school development and also access of rural girls to secondary school and undergraduate science studies, and has particularly worked in the remote Imlil valley in the high Atlas Mountains, where more than 2,700 children have benefited from pre-school education.
Skalli will be assisted in her Global Council chair duties by Malik Ghallam, also of the Hassan II Academy of Science and Technology.