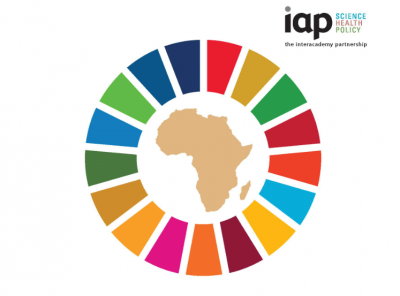 New IAP report calls for strengthening science support for Africa's sustainable development
Today the InterAcademy Partnership (IAP) - the global network of over 140 national academies of science, engineering and medicine - released a new report making the case for strengthening the science-policy interface in Africa to accelerate the implementation of the UN Sustainable Development Goals (SDGs) and the African Union's (AU) STI Strategy for Africa (STISA -2024).
The report is the culmination of a three-year project, Harnessing Science, Engineering and Medicine to address Africa's Challenges, funded by Carnegie Corporation of New York. This project explored pathways for feeding scientific expertise into UN and AU policy frameworks, with a focus on ways that African national academies can contribute more effectively at continental, regional and national levels. It complements a global report released in May 2019, Improving scientific input to global policymaking.  Supporting this vital effort, the project piloted different ways of building science policy leadership amongst early career African researchers, building a cadre of policy-literate scientists who can help pave the way for more rigorous, evidence-informed decision-making in Africa; and of drawing on members of the African science diaspora to engage with their national academies to help science serve society.
Released at the Academy of Science of South Africa's (ASSAf) stakeholder workshop on SDG-6 (clean water and sanitation) and the Network of African Science Academies (NASAC) Board meeting, the report urges academies and policymakers to engage openly and inclusively to ensure that evidence informs policy formulation, implementation and review. This includes the imperative for African governments to invest in scientific research and honour their commitment to set this level at 1% of GDP. The report sets out concrete, actionable recommendations for the UN, AU and its agencies, merit-based academies and the wider science community: for example, providing more opportunities to bring scientists and policymakers together, including fellowships and secondments; scaling up programmes that engage the African science diaspora and develop science policy leadership; and strengthening cooperation between senior and young academies.
Professor Robin Crewe (Co-Chair of the IAP project and former President of ASSAf) said "In implementing these important policy frameworks, African countries face significant challenges. National and continental academies of science are important sources of knowledge and advice for investment in, and the application of, science. We anticipate this report will help the academies fulfil their role and, at the same time, help policymakers better understand how the scientific community can help."
Professor Oyewale Tomori (Co-Chair of the IAP project and former President of the Nigerian Academy of Science) added, "The engagement of young and senior national academies in Africa, working with other partners, has never been more urgent, nor has the imperative for African policymakers to invest in science and demand evidence to inform more effective decision-making. Both communities need to move beyond rhetoric to genuine, respectful cooperation."
Professor Himla Soodyall, Executive Officer of ASSAf and IAP Working Group member, concluded "The IAP report sets out a range of practicable actions that academies can take to bring more rigour to policymaking on the continent.  One such action is to convene the broad range of stakeholders working at the national level on specific clusters of SDGs and STISA priorities, to identify knowledge gaps and synergies, and 'roadmap' future cooperation, as we are doing to good effect here today on SDG-6."
Contacts:  For enquiries and/or further information, please contact Dr Teresa Stoepler, Executive Director, IAP-Policy at tstoepler@iapartnership.org
?The new @IAPartnership report 'Harnessing #Science, #Engineering and #Medicine to Address #Africa's Challenges: The Role of African National Academies' is out!

?️Read the news https://t.co/GQGym8w3GZ

?️and download it here https://t.co/6nHXqZeQGa pic.twitter.com/pPHhsrpEiF

— InterAcademy Partnership (@IAPartnership) July 23, 2019