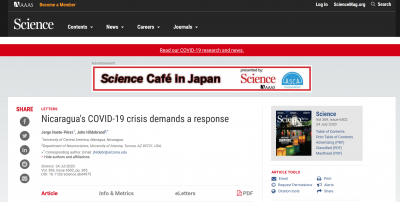 Nicaragua's COVID-19 crisis demands a response
Read this letter to Science
The international scientific community must pay attention to the COVID-19 pandemic in Nicaragua. This is the key message of the letter sent to Science by Jorge Huete-Pérez, President of the Nicaraguan Academy of Sciences, and John Hildebrand, member of the US National Academy of Science.
The Nicaraguan government's disastrous coronavirus disease 2019 (COVID-19) strategy has precipitated uncontrolled contagion and deaths and threatens regional security. The crisis in Nicaragua deserves the attention of the international scientific community.

Early in the pandemic, Central American countries adopted measures to fight COVID-19. Nicaragua, however, instituted only "epidemiological control at borders through surveillance," relying on travelers to declare symptoms (1). In contrast to recommended policies, the government has kept schools and businesses open and convenes massive public gatherings (1). Nicaragua's 347 COVID-19 deaths per million people is the highest in Central America (1, 2). The independent Citizen Observatory reports that COVID-19–related deaths in Nicaragua are greater than those in Panama (2), the country with the highest incidence of infections in the region (3).

Scientists have called for an emergency plan and advised the Nicaraguan government to scale up testing and contact tracing of COVID-19 patients (4). A declaration signed by 34 medical associations urged citizens to implement voluntary self-quarantine (5) to curb the spread of the virus. The Pan American Health Organization (PAHO) has warned that Nicaragua refuses to report COVID-19 cases even though an appropriate response to the pandemic requires knowledge of its true magnitude (6). Nicaraguan authorities deny that the pandemic has been in the community contagion phase since May (6), and insufficient testing has led to COVID-19 deaths going uncounted. The number of deaths among health care professionals is rising (7), and at least 10 doctors have been fired for demanding protective equipment and voicing concern about the Nicaraguan government's slow response to the pandemic (8)
You can read the full letter here.