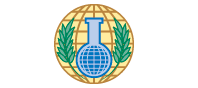 OPCW workshop convenes in Trieste
Biotechnology & Biosecurity
IAP joined TWAS to host the second in a series of workshops to introduce the work of the Organization for the Prohibition of Chemical Weapons and to young scientists in Trieste, 12-15 September 2017.

Trieste, 12-15 September 2017.
Some 20 young scientists from countries such as the DR Congo, Costa Rica and Sri Lanka convened in Trieste to attend the second 'Workshop on Policy and Diplomacy for Scientists: Introduction to responsible research practices in chemical and biochemical sciences'. The first workshop in this series was hosted by the Academy of Science of South Africa.
Among the speakers at the Trieste workshop were Sergey Zinoviev and Jonathan Forman from OPCW, Daniel Feakes from the Biological and Toxin Weapons Convention, and Jo Husbands of the US National Academies of Science, Engineering and Medicine and a member of the IAP Biosecurity Working Group, and IAP Coordinator, Peter McGrath.