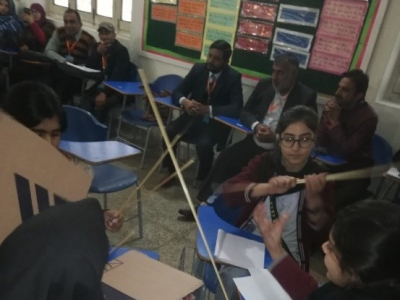 Piloting the Fusion of Civilization Education Curriculum in Pakistan
ECO Science Foundation piloted a module of the Fusion of One Belt One Road (OBOR) Civilizations Curriculum
The IAP Science Education Programme (IAP SEP) is working to develop a One Belt One Road (OBOR) curriculum. Its aim is to help school children across many Asian and African countries understand the contributions that their cultures and civilisations have provided to scientific thinking.
The ECO Science Foundation (ECOSF) has been collaborating with its partners to develop the Fusion of One Belt One Road (OBOR) Civilizations Curriculum Design (FoCEd), which aims not only at promoting science education, but also social and moral values among young students.
This curriculum highlights the different aspects of ancient scientific discoveries along the Belt and Road countries. In order to do it, it employs an Inquiry Based Science Education (IBSE) approach, and ECOSF and its partners have been working on curriculum modules focused on water resources, Land and Maritime Silk Roads, and architecture.
The students of IBA Public School Sukkur recently tested one of this models by engaging in a hands-on activity. An interactive session led by science teacher Ms. Saba Chachar allowed students to explore fundamental concepts and find common themes, formulate questions, and analyse both the need and development process of a water storage tank.
"During the demonstration, it was quite visible that all students were enthralled and fascinated by the learning process, which is an essence of IBSE methodology," reports the January 2020 ECOSF newsletter.
"Students were provided with some low cost materials to create a working prototype of water storage tank. The prototypes were tested by putting on them some weight to determine the effectiveness of these developed models," highlights the newsletter.
This activity was part of a 5-day Capacity Building Workshop on Inquiry Based Science Education (IBSE) organised under the framework of Belt and Road International Science Education Coordinating Committee (BRISECC). This workshop took place on 20-24 January 2020 in Sukkur, Pakistan, was jointly organised by ECOSF and Sukkur IBA University, and was supported by Children and Youth Science Centre (CYSC) of China Association for Science and Technology (CAST).
By joining this activity, workshop participants were able to see firsthand how effective IBSE is.
"President ECOSF Prof Dr. Manzoor Hussain Soomro and Vice Chancellor SIBAU Prof. Nisar Ahmed Siddiqui appreciated the students and their teacher for their enthusiasm and encouraged them to continue to critically understand and acquire natural science rather than relying on rote learning," stresses the ECOSF newsletter.