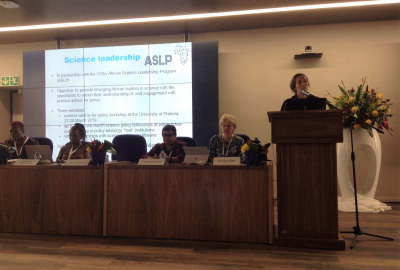 Science Forum South Africa
The InterAcademy Partnership (IAP) and its Carnegie Corporation of New York-funded project "Harnessing SEM to address Africa's challenges" were represented at this year's Science Forum South Africa (SFSA) in Pretoria.  Themed around igniting science conversations, this fourth SFSA attracted 4,000 participants from 88 countries, including university students and school children.  In her opening remarks, South Africa's science minister, Mmamoloko Kubayi-Ngubane, described it as the "biggest science debate on the continent".
IAP's session panel engaged the Network of African Science Academies (NASAC), the Global Young Academy (GYA) and the Academy of Science of South Africa (ASSAf) covered some of the ways academies are engaging with the SDGs and continental plan for STI, STISA, regionally and nationally.  It generated questions about how academies can help engage African diaspora, governments and civil society, and their advocacy role in championing the importance of national investment in STI.
The African Academy of Sciences (AAS), NASAC and the national academies had a high profile in the programme, with the importance of engaging science communities at the national level – where policy design and implementation generally occurs - being a recurring theme.