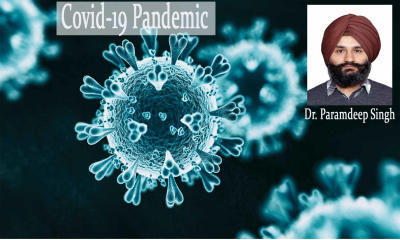 Scientific Advice during Pandemics: Exploring the role of Clinicians
Read an editorial by YPL Alumnus Paramdeep Singh
Paramdeep Singh is an Associate Professor of Radiology at University Hospital of Baba Farid University of Health Sciences (BFUHS) in India, who in 2019 was selected by the InterAcademy Partnership (IAP) to be part of the Young Physician Leaders (YPL) programme.
He recently wrote an editorial on Medical Dialogues titled "Scientific Advice during Pandemics: Exploring the role of Clinicians".
Academic Clinicians don't just treat patients but are also trained to manage a disease based on credible scientific evidence. In other words, they are not just doctors but are Clinician-Scientists who employ evidence-based-medicine during their day-to-day clinical practice and who also generate valuable data based upon their experiences with the patients. In many academic institutions, especially in developing countries, such Clinicians-Scientists, due to their crushing clinical service commitments, find little time for indulging in research related activities. In such countries, the academic clinicians (apart from their time consuming clinical service commitments) have to perform teaching and administrative responsibilities. With less than adequate institutional support for research, the atmosphere conducive to research could not got built up in institutions of Medical education and there is a much felt need to redefine a career path for Clinician-Scientists (in developing countries). Further, they need more representation in Science academies and they need to be consulted in evidence-informed policymaking pertaining to health.
You can read his editorial here.