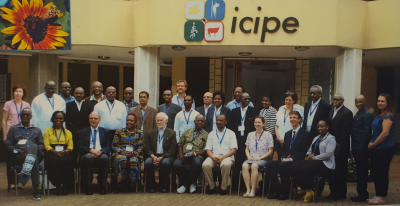 Second 'Neonicotinoids in Africa' workshop
Agriculture & Food Security
Academies investigating 'Neonicotinoids and their impact on ecosystem services for agriculture and biodiversity in Africa'.
The second workshop for the project 'Neonicotinoids and their impact on ecosystem services for agriculture and biodiversity in Africa' has concluded in Nairobi, Kenya.
The event, which brought together some 30 experts from 17 African countries, was hosted by the International Centre for Insect Physiology and Ecology (ICIPE) and took place from 13-15 May 2019. As well as the African scientists, staff and experts from the participating organizations (the German National Academy of Sciences, Leopoldina; the Academy of Science of South Africa (ASSAf); EASAC; NASAC; and IAP) attended.
The first project workshop took place in Pretoria in November 2018 and featured reports of the current situation regarding neonicotinoid use in nine African countries. During this workshop, reports from an additional seven countries, were presented, typically by experts identified through member academies of NASAC (but also including some* that do not have national academies of science):
Egypt - Salah Soliman
Ghana - Enock Dankyi (presentation)
Malawi* - Elizabeth Bandason
Namibia* - Penny Hiwilepo-van Hal
Senegal - Papa Ibra Samb
Tunisia* - Samir Abbès
Zambia - Philip Nkunika
Zimbabwe - Charles Nhachi
Updates were also provided regarding the situation several countries that were reported on in Pretoria, including Cote d'Ivoire, Kenya and Tanzania.
Based on the situation reports from the different countries and a draft summary report prepared following the Pretoria workshop, discussion sessions focused on 'Discussion of priority issues related to research and field studies', 'Perspectives and possible ideas for improvement of pesticide authorization, regulation and extension services in Africa', 'Possible new coordination mechanisms between research groups across African countries', and Communication and dissemination actions' for the final report.
Time was also spent reviewing a series of draft recommendations (prepared after the Pretoria workshop). These recommendations were further refined with input from the African experts and will be a core component of the final report. The report itself will now be completed thanks to input from the workshop participants, who will also have a chance to review its contents. It will then be peer-reviewed before release later this year.
The project is funded by the German Ministry of Education and Research (BMBF) through a grant to the Leopoldina.
Proceedings of the first workshop in Pretoria are available here: http://research.assaf.org.za/handle/20.500.11911/109
Proceedings of this workshop will be published by ASSAf shortly.