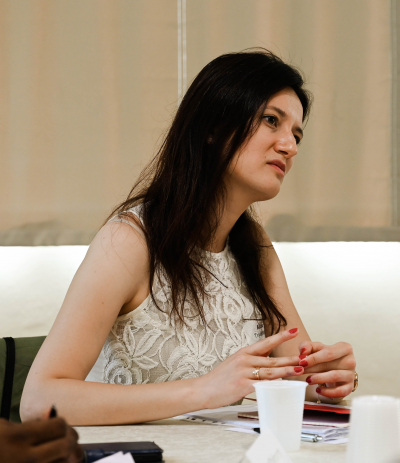 YPL alumna at the European Research Executive Agency
Azize Tiryakioglu becomes a trainee of the Blue Book Traineeship Program at the REA
IAP Young Physician Leaders (YPL) alumna Azize Tiryakioglu becomes a trainee of the Blue Book Traineeship Program at the European Research Executive Agency
The Blue Book program is one of the biggest traineeship program that is conducted by the European Commission. Every year program opens two calls for 5 months of traineeship (from March till the end of July and from October till the end of February). In every session between 11,000-15,000 candidates from all around the world apply for the program. At the end of the selection period, for every session, approximately 900 trainees get selected to participate daily work of European Commission directorate generals, agencies or EU institutions.
The aim of the traineeship is to give a flavour of the EU institutions working environment and support early career professionals. Trainees from all around the world contribute to Commission's daily work in a way with a fresh view and proactive approach.
IAP Young Physician Leaders (YPL) alumna Azize Tiryakioglu (2021 cohort) is among the 2022 October session Blue Book Trainees and placed at European Research Executive Agency.  She is in the unit for Marie Skłodowska-Curie Actions Staff Exchanges. The unit is managing outstanding projects which could have a bottom-up manner or complement top-down collaboration. One of the main goals of MSCA Staff Exchanges is to contribute to the development of highly skilled research-based human capital in diverse scientific areas by implementing international, inter-sectoral and interdisciplinary joint research and innovation projects through the exchange of staff within partnerships of universities, research infrastructures, businesses, SMEs and other socio-economic actors in Europe, as well as between Europe and third countries. Thus, strengthening intersectoral and international collaborative networks.
"As far as I experienced this is the place where a bridge is constructed and maintained between the research field and policy making in a way of communicating both ways. This is a unique opportunity for me to see how the project life cycle starts from opening of the call, selection to implementation and interpretation of scientific results" she said.
"Another exciting side of the traineeship is to be a part of science diplomacy while contacting different sectors and entities from all around the world as a main point of the programme" she added.