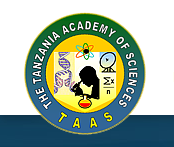 NETWORK /
National
Academy / IAP Member /

NASAC

Member
Tanzania Academy of Sciences (TAAS)
2004
COSTECH Building, Ali Hassan Mwinyi Road, Kijitonyama, P.O. Box 33654,
Dar es Salaam,
Tanzania
TAAS was initiated by a few Tanzanian scientists led by Prof. Peter Msolla, the then Deputy Vice chancellor of Sokoine University of Agriculture and now the Minister of Communication, Science and Technology. It was established on 24th February, 2004 with the cooperation and support of the government of Tanzania and registered as an NGO scientific body on the April 13, 2005 with Certificate No. 0796.
The primary objective of TAAS is to cooperate and collaborate with the government, other scientific organizations and the general public in the promotion, advancement and scholarly application of all aspects of science and technology for the socio-economic development of Tanzania.
The Vision of TAAS: "To be a world class national scientific organization for the advancement and application of scientific and technological learning for socio-economic development."