Akica Bahri
Coordinator of the African Water Facility (AWF)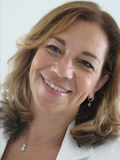 Biography
Akiça Bahri is currently the Coordinator of the African Water Facility (AWF) at the African Development Bank since 2010, an initiative of the African Ministers' Council on Water. She has academic (a Doctor-Engineer degree from the National Polytechnic Institute of Toulouse, France, and a PhD from the Institute of Science and Technology at Lund University, Sweden) and professional experience in water resources management and the agricultural use of marginal waters, sewage sludge and their impacts on the environment.

She has also been involved in policy and legislative issues regarding water reuse and land application of sewage sludge. Her experience includes substantial achievements in research, research management, capacity building, as well as experience as a manager in the water field. She has assisted her country, Tunisia, in supplementing its scarce water resources with reclaimed water, providing an environmentally safe and useful manner of sewage sludge recycling through land application, in addition to seeking solutions for critical challenges to water security and improving urban water and wastewater management in the growing cities around the Mediterranean area, the Middle East as well as in Africa.
She has been working for the National Research Institute for Agricultural Engineering, Water and Forestry in Tunisia where she was in charge of research management in the field of agricultural water use and has managed, as Director for Research, a research laboratory from 2000 to 2005. She has been a member of the International Water Management Institute's (IWMI) Board of Governors from 2003-2004 before becoming the IWMI Director for Africa where she was in charge of the management of the Africa research program from 2005-2010.
She is a member of different international scientific committees and has received international honors from the Guinness Foundation (1984), the International Foundation for Science (1993), the Kuwait Foundation for the Advancement of Sciences (1996), and the 2009 "Prof. C.N.R. Rao Prize for Scientific Research". She was a Fulbright Scholar at the University of California at Davis from January to June 2005.