Maryam Albashir
Contacts
Maryam.albashir@burlo.trieste.it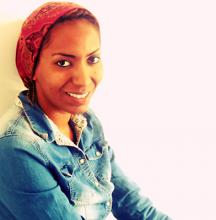 Biography
Global health Researcher specialized in Maternal and Child health focusing in  Low Income Countries; WHO Collaborating Centre for Maternal and Child health. Trieste, Italy
Main responsibilities:
First author of systematic reviews of evidence in Maternal and Child health ( two systematic reviews in a pre publication stage)
Assist in the research centre activities in advocacy, awareness raising and measurement of the Respectful Maternity Care and human rights in Childbirth
Assist in the Centre activities of development of measurement tools to support  WHO in assessing quality of care in maternal and child health.
Medical Reviewer: Medical Trial Analysis. Milan, Italy
Main responsibilities: 
Medical Reviewer in a global clinical trial to test a new therapy for cardiovascular events.
Continuous Monitoring and Audits of Subjects Clinical data (Pharmacovigilance, Adverse Side Effects) to insure adherence to the trial protocol,ethical and regulatory guidelines.
Assist and facilitate the capacity building and medical training on cardiovascular compliance and Serious Adverse Side Effects Tonon-medical staff.
----
·  Medical doctor, global health and clinical researcher with over 2 years' experience of working in clinical, academic and pharmaceutical research.   
·  holds a Msc in ''International health and medicine for cooperartion with developing countries'' - university of Parma and PG diploma in sexual and reproductive health from Genevea Foundation for Medical Education and Research and WHO.She is a certified clinical research associate from the Clinical Research Society. Member in many international academic and youth organizations.
·  Conducted research in global maternal health and instructed in emergency medicine education in conflicts zone
·  Experienced in working in drug development and testing in global clinical trials in cardiology.
·  lives in Trieste, Italy, in her free time she learns lanuages, travel and volunteer.