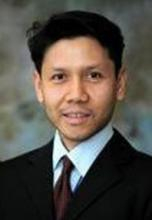 Biography
Mohd Feizel Alsiddiq is a Consultant Paediatrician and Paediatric Neurologist as well as a senior medical lecturer at the department of paediatrics, Faculty of Medicine and Health Sciences, University Putra Malaysia(UPM).
He graduated from National University of Ireland, Galway, Republic of Ireland in 1997. Following a clinical posting in a rural district hospital in East Malaysia, he underwent his paediatric residency training in University Malaya Medical Centre, Kuala Lumpur and graduated with Master in Paediatrics in 2005. He also obtained his membership of the Royal College of Paediatrics and Child Health(MRCPCH ),United Kingdom in 2004.
He pursued his interest in paediatric neurology and was trained in UKM Medical Centre, Kuala Lumpur.In 2010 , he undertook a 1-year fellowship in epilepsy and neurophysiology with the Division of Neurology,Children's Hospital of Philadelphia , Philadelphia PA,United States of America.
Upon his return, he founded the paediatric neurology unit at Hospital Serdang,Selangor,Malaysia which is the main teaching hospital of the UPM Medical school. He was appointed as the Head of Department, Department of Paediatrics, Faculty of Medicine , UPM in May 2011.
He is currently the chairperson of the Chapter of Child Neurology and Paediatric Neurology of the Malaysian Society of Neurosciences (MSN) while being the honorary advisor of the Malaysian Society of Epilepsy and the UPM Medical Student Society.
In view of his interest in childhood epilepsy , he has been involved in research projects on antiepileptics, quality of life in epilepsy , occipital epilepsy, febrile seizures and Genetics of early infantile epileptic encephalopathy in malaysia.