Lakmali Amarasiri
Contacts
lakmaliamarasiri@gmail.com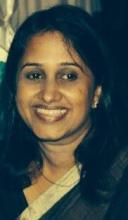 Biography
Dr. Lakmali Amarasiri (MBBS, PhD), is a senior lecturer in Physiology, currently employed at the Department of Physiology, Faculty of Medicine, Colombo. She currently teaches physiology to medical and non-medical undergraduates of state and non-state institutions and post-graduate trainees of the post graduate institute of medicine. She was formerly attached to the department of Physiology, University of Kelaniya as a Senior Lecturer from 2002-2016. She further trained in allergy testing and spirometry at the Alfred Hospital in Melbourne, Australia and advanced lung function testing as a Commonwealth Academic Fellow at the Lung Function Unit, Royal Brompton Hospital in London, UK and serves as an expert and trainer in lung function testing techniques and interpretation.
Her research interests are respiratory and gastrointestinal physiology, Gastro-oesophageal Reflux Disease and Asthma, and healthy lifestyle.
She is a Young Physician Leader of the 2013 YPL program of the InterAcademy Partnership (IAP).