Ana María Gómez-Jaramillo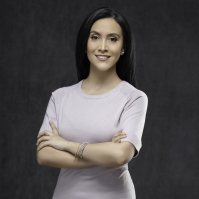 Biography
Dr. Ana María Gómez-Jaramillo attended the Pontifical Catholic University of Ecuador where she obtained a Bachelor in Medicine and Surgery. Sshe continue her studies at the Internal Medicine Programm earning his specialty degree graduating with honors in the same college.  She has completed his higher education between 2018 and 2020 by completing a master's degree in infectious diseases and HIV (Cardenal Herrera University - Spain) and a master's degree in university teaching (European University of Madrid)
At the moment she works as a full-time professor at the Faculty of Medicine of the Pontificia Universidad Catolica del Ecuador where in addition to teaching classes in the degree of medicine and in the internal medicine program, she is coordinator of the research unit of the faculty.
She is the author of the National Clinical Practice Guideline for the management of adults with HIV in Ecuador, as well as being part of the scientific committee of Quito city that advised on decision-making in public health during the COVID19 pandemic. She is part of the clinical research group of the CISeAL institute (Health Research center in Latin America) where he leads the line of research in infectious diseases. His doctoral research focuses on resistance to 1st and 2nd line antiretroviral drugs received by HIV patients in his country,
in collaboration with the European University of Madrid and CISeAL
Among her complementary activities, Dr. Gomez treats patients in the outpatient and hospital setting, and is continuously called upon by the Ecuadorian Ministry of Health for scientific advice on different topics. She is an active member of the Ecuadorian Society for Infectious Diseases and the International AIDS Society,  therefore, his professional activities are directed to the scientific communication and critical analysis of clinical evidence, especially of infectious diseases in adults.