Anaeze Chidiebele Offodile
Contacts
ACOffodile@mdanderson.org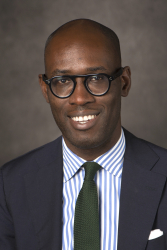 Biography
Dr Anaeze Chidiebele Offodile is the Executive Director for Clinical Transformation and an Assistant Professor in the Department of Plastic Surgery at MD Anderson Cancer Center. Collaborating with key clinical and operational leaders throughout the institution, he is helping define, align and implement a high-level roadmap for clinical and economic transformation in support of MD Anderson's vision to deliver high-value cancer care. Current initiatives include a technology-enabled Hospital-at-Home pilot program focused on addressing treatment-related symptom burden in patients undergoing oncolytic therapy, a remote patient monitoring program (biometrics and patient-reported outcomes) that also leverages telemedicine-enabled nursing support for acute care avoidance, and an operating room supply chain cost optimization program that is based on behavioral economics principles.
He is also a non-resident scholar in domestic health policy at the Baker Institute, a non-partisan think tank on the campus of Rice University. His scholarship is focused on examining the subjective and material impact of patient-borne treatment-related costs ("financial toxicity") and the integration of digital health technologies across the entire cancer care continuum. He has received several national awards for his research work as well as competitive funding from the Doris Duke Charitable Foundation, University Cancer Foundation, and Blue Cross Blue Shield Affordability Cures Consortium. He was the 2019-2021 Gilbert Omenn Fellow at the National Academy of Medicine (NAM)
A graduate of Columbia University College of Physicians and Surgeons, he completed surgical training at Brigham & Women's Hospital (General Surgery), Lahey Clinic (Plastic Surgery) and MD Anderson Cancer Center (Microvascular fellowship). Dr. Offodile also received a Master's in Public Health with a focus in health policy from the Bloomberg School of Public Health at Johns Hopkins University as the Howard Beard merit scholar.