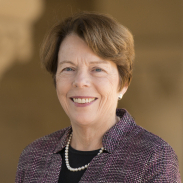 Biography
Professor of Pediatrics and Microbiology & Immunology, Stanford University, California, USA
Specialization: Virology, Infectious diseases
Ann M. Arvin, M.D. (NAM), is the Lucile Salter Packard Professor of Pediatrics and Professor of Microbiology and Immunology, Stanford University School of Medicine. She was the Vice Provost and Dean of Research at Stanford University from 2006-2018. As Vice Provost, she oversaw Stanford's interdisciplinary institutes as well as university research policies, compliance with regulations concerning the responsible conduct of research, and the Office of Technology Licensing.   Her laboratory research is on molecular mechanisms of varicella zoster virus infection and immune responses to this human herpesvirus. Her clinical research focuses on understanding of the immune responses of infants and young children to viral infections and vaccines.  Her work has been recognized by election as a fellow of the American Academy of Arts & Sciences, the National Academy of Medicine, the American Association for the Advancement of Science, the Association of American Physicians and the American Pediatric Society.
Her committee service related to infectious diseases, vaccines, global health and regulatory policy includes the NIAID Director's Advisory Council; the National Vaccine Advisory Committee, DHHS;  the NAS/NRC Committees on Policy and Global Affairs and Science, Technology and Law, the Workshop on Developing Norms for the Provision of Laboratories in Low‐Resource Contexts, Chair,  the Board on Life Sciences and the Committees on Federal Research Regulations and Responsible Science; the IOM Committee on the Scientific Uses of Variola Virus, Chair; the WHO Steering Committee on Research Related to Measles Vaccines, Chair; the NIAID Blue Ribbon Panel on Influenza; and the President's Council on Science and Technology H1N1 and Influenza Working Groups; and the NIH ACTIV Vaccines Working Group for COVID-19.   Dr. Arvin was chief of the Infectious Diseases Division, the Lucile Packard Children's Hospital at Stanford, 1984-2006.
She received her AB from Brown University, MA in philosophy from Brandeis University, and MD degree from the University of Pennsylvania. She completed her clinical training at the University of California, San Francisco (Pediatrics) and was a postdoctoral fellow at UCSF and Stanford University (Infectious Diseases/Virology).