Aphiya Hathayatham
Vice-President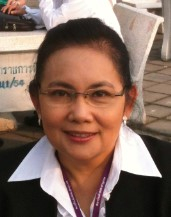 Biography
Aphiya Hathayatham is currently Vice-President of the National Science Museum, Thailand.
She has a Bachelor's degree in agriculture (Horticulture) from Kasetsart University, Thailand (1981), an MSc in Seed Technology from Mississippi State University, USA, obtained through a USAID Scholarship award (1987), and a PhD in science communication from the National Centre for the Public Awareness of Science (CPAS), Australian National University (ANU), Canberra, Australia, through a Royal Thai Government Scholarship (2001).
Professionally, she has received training in the Government Executive Official Development Programme, Damrong Rajanubhap Institute, Ministry of Internal Affair, Thailand (2013); Museum Management, Deutsches Museum, Germany (May 2006); professional development,  Questacon - the National Centre of Science and Technology, Australia (1999); and has received a Certificate of Mastery in Science Edutainment and Science Museum Management from Questacon and the Australian National University  Australia (1997).
Prior to her appointment as Vice-President, National Science Museum, Thailand, she held other position at the National Science Museum including Director, Information Technology Museum; Director, Strategic Planning Division; Director, Exhibition Division; Director, Foreign Affairs and Public Relations Division; as well as acting as Secretary to the Foreign Affairs Standing Committee, House of Representatives, Thailand, and Head of Seed Quality Control Division, Ratchaburi Seed Centre, Department of Agricultural Extension, Ministry of Agriculture and Cooperative.
In 2015 she received the Deepak Rathore International Award for Science Popularization.