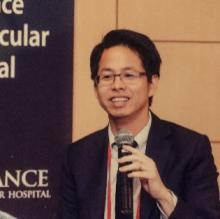 Biography
- Clinical Instructor/Heart failure and transplant cardiologist,
Excellent Center for Organ Transplantation,
King Chulalongkorn Memorial Hospital/ Chulalongkorn University:
As the only heart failure by training (ABIM board eligible) in the hospital and the country, I provide excellent care for patients who are suffered from "failing heart" in this public, tertiary care, academic hospital. Not only by hard working but also establishing a system-based heart failure program. I also engage in an administrative works include becoming an associate program director for a cardiovascular fellowship which directly oversee fellowship training at my hospital.
- Affiliate Assistant Professor, Oregon Health & Science University:
Coordinate, communicate and initiate collaborations between 2 teaching hospitals with one global goal of providing opportunities to learn from each other together.
Dr. Ariyachaipanich is a Clinical Instructor and Fellowship Associate Program Director at King Chulalongkorn Memorial Hospital – a non-profit, academic, tertiary care hospital in Bangkok, Thailand which is affiliated with Chulalongkorn University and Thai Red Cross Society.
After graduating medical school in 2005, Dr. Ariyachaipanich relocated to the US for post-graduate training. In 2014, he completed his Cardiovascular Medicine and Advanced Heart Failure/Transplant fellowship at Oregon Health & Science University (OHSU), Portland where he served as chief fellow.
With a dual Affiliate Assistant Professor position at OHSU Global SE Asia, he stimulates change by initiating collaborations between these 2 countries. Professionally, he is frequently invited to speak at The Heart Association of Thailand, national and regional meetings.
During his free time, he enjoys photography, traveling with his wife and dog training.