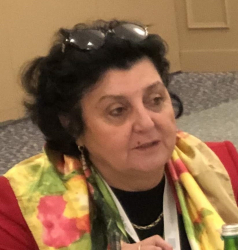 Biography
National Centre for Disease Control and Public Health (NCDC), Tbilisi, Georgia
Specialization: Bioethics, Biothreat agents, Preparedness and response, Biosafety, Biohazards, Biorisk management, Surveillance and forecasting
For more than 30 years Professor Lela Bakanidze, Doctor of Sciences, had worked at the National Center for Disease Control and Public Health (NCDC) of Georgia. During this period she was the Head of the Department of Biosafety and Threat reduction, Deputy Head of the Department of Especially Dangerous Infections (EDI). Dr. Bakanidze was the Head of NCDC Bioethics Committee. Later Lela Bakanidze had moved to Georgian Agrarian University, where she was the Nonporliferation Programs Manager. Prof. Bakanidze is American Biosafety Association (ABSA) Registered Biosafety Professional (RBP).  Lela Bakanidze was President of Georgian Biosafety Association (2009 – 2013), Chair of the IFBA Board of Directors (2017 – 2020), at present she is the President of the Biosafety Association for Central Asia and Caucasus (BACAC).
Prof. Bakanidze works in Tashkent, Uzbekistan, she is the Key Expert for On-Site Technical Assistance to the EU Chemical, Biological, Radiological and Nuclear (CBRN) Centres of Excellence Initiative Regional Secretariat for Central Asia.
Lela Bakanidze is the author of two monographs and more than 80 scientific papers.