Gunn Elisabeth Birkelund
General secretary, Norwegian Academy of Science and Letters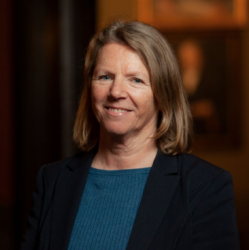 Biography
Gunn Elisabeth Birkelund, professor
Academic Interests
Social stratification and labour market studies.
Member of the research group: Social Inequalities and Population Dynamics.
Background
Professor, Sociology, at University of Oslo. 1999 -
Dr.polit.,Sociology, University of Bergen, 1993
Cand.polit., Sociology, University of Bergen 1982
Employed at University of Bergen (research assistant, assistent professor, associate professor) 1983-97
Researcher at Fafo Institute for Applied Social Research 1996-97
Researcher and Research director of a Norwegian Research Council program at Institute for Social Research 1997-99
Director for Advanced Program in Labour Studies, the Faculty of Social Science, University of Oslo, 2006-2007
Birkelund has been Visting Academic at University of Wisconsin-Madison (1987),
University of California at Berkeley (1993-94)
University of Oxford and Nuffield College (2005-2006).
Professor II, The Institute for Analytical Sociology, Linköping Universitet., 2015-2019. http://www.liu.se/ias?l=en
Birkelund has also had shorter periods of research at University of Essex, England; University of North Carolina at Chapel Hill, USA; CREST/ENSAE, Paris; GEMASS, Paris Sorbonne University.