Boitumelo Precious Phakathi
Academic Head of Department, Surgery, University of KwaZulu-Natal, South Africa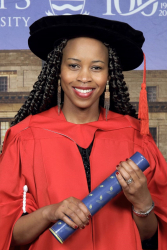 Biography
Boitumelo Precious Phakathi has been working at University of KwaZulu-Natal since 2022 that supports its affiliates regarding operations management and strategy development themes. During the last 5 years she managed different local & national projects within the organisation.
She holds Bachelor of Medicine & Surgery (MBCHB) from University of KwaZulu-Natal, Masters in Medicine (Surgery) from University of Pretoria, Certificate from the Fellowship of the College of Surgeons (FCS(SA)) from the College of Medicine, South Africa, and PhD from the University of Witwatersrand.
She lives in Durban, KwaZulu-Natal. She is a wife and mother of three children. In her free time, she spends time with family and friends, goes to church and serves in church. Her special relaxing method is watching tv.