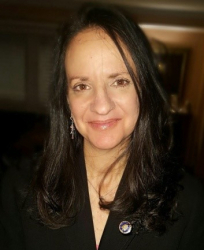 Biography
Carol O'Donnell is the Director of the Smithsonian Science Education Center (SSEC), a unit of the Smithsonian Institution that is dedicated to transforming the learning and teaching of science throughout the nation and world. In this role, Carol is responsible for all operational activities and planning for the unit, including building awareness for K-12 science education reform among State and district leaders; conducting programmes that support the professional growth of K-12 science teachers and school leaders; and, overseeing all research and curricular resource development, philanthropic development, and administration. In this capacity, since 2015, Carol also serves as the US representative on the Global Council of the IAP Science Education Programme (SEP).
Carol earned her BSc in Education from the University of Pittsburgh, her MSc in Geosciences from Mississippi State University, and her doctorate in Curriculum and Instruction with a focus on science education from George Washington University (GWU).
Prior to joining the Smithsonian, Carol was a leader at the US Department of Education for nearly a decade, supporting States and districts as they built their capacity to implement and sustain education reforms and achieve continued improvement in student outcomes. A former K-12 teacher and curriculum developer, she is still in the classroom today, serving on the part-time faculty of the Physics Department at GWU.