David Ferguson
Deputy Director - Office of Science and Technology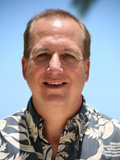 Biography
David Ferguson is Deputy Director of USAID's Science and Technology office with a particular emphasis on open innovations and the Grand Challenges for Development program. Before joining USAID, he worked on international development at the nexus of development, technology, and the private sector. His first career was 27 years at AT&T where he created and ran AT&T's Professional Services Division, developing it into a US$200M profitable entity. He was based in Hong Kong for seven years and focused on the developing markets of China, India, and Indonesia, for telecommunications investment opportunities. He built seven joint ventures during this period.
His technical expertise includes ICT for development, economic growth through private sector engagement, and government technology and telecommunications policy and regulation.
Mr. Ferguson holds a Master of Science Degree in Electrical Engineering and Computer Science from Stanford University and a Bachelor of Science Degree in Electrical Engineering from the University of Massachusetts.