Doulaye Kone
Senior Program Officer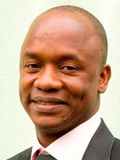 Biography
Dr Doulaye Koné was born in Côte d'Ivoire.  He holds a Ph.D. and MAS in sanitary and environmental engineering; a certificate in environmental communication; MSc. and BSc in Physics and Chemistry. He is currently working as Senior Program Officer, on the Water, Sanitation & Hygiene Program (Global Development) at the Bill & Melinda Gates Foundation. In this capacity, his investment (grant making) portfolio focuses on innovation in science and technology to reinvent the Toilet and its associated business models for sustainable sanitation service delivery.
Prior to joining the Foundation, Dr Kone worked for the African Water Association (AfWA) as Program Coordinator Africa Water Operators Partnerships' (WOP-Africa). An initiative of the United Nations Secretary-General's Advisory Board on Water and Sanitation (UNSGAB) jointly implemented in Africa by AfWA and its partners (IWA, AfDB/AWF, USAID, AQUAFED...) under the Global WOPs alliance framework coordinated by UN-Habitat. In this capacity Dr Kone was engaged in fund raising activities and deep project management to promote partnership for systematic knowledge exchange and capacity building among water and sanitation professionals to speed up progress towards the achievement of the MDGs.
Dr Doulaye Koné has more than 15 years experience as water and sanitation specialist in developing countries (excreta and wastewater management). Prior to AfWA, he worked as Senior Programme Officer and Group leader coordinating an international research and development portfolio at Eawag, the Swiss Federal Institute of Aquatic Science and Technology, Department of Water and Sanitation in Developing Countries (Sandec). He was lecturing at the Swiss Federal institutes of Technology, Lausanne (EPFL) and Zurich (ETHZ), and guest lecturer at the International Institute for Water and Environmental Engineering (2iE) in Burkina Faso and UNESCO-IHE (Delft). He was scientific advisor for CREPA headquarters and Latrines Togo.

He worked as a research scientist in Belgium at the Department of Environmental Management (University of Liège) on natural wastewater treatment systems. These investigations continued later in Burkina Faso with 2iE, where he was involved in sanitation planning projects in West Africa, and research projects aiming at linking sanitation infrastructure development to business opportunities. Dr Koné has authored several technical, scientific and policy publications. He has mentored several PhD and MSc students in Africa, Asia and Europe.