Dr. Julio Munoz Miguel
Contacts
juliomunozmiguel@gmail.com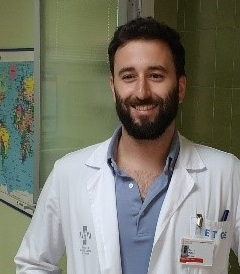 Biography
Dr. Muñoz Miguel currently works as the Preventive Medicine Specialist at Hospital de Sagunto where he also acts as lead of the Infection Control and Patient Security work groups. He is furthermore engaged in transversal tasks within the hospital and participates in a series of work groups such as the antibiotic stewardship program. Dr. Muñoz Miguel also serves as the the link person with the public health authorities at the hospital.

Dr. Muñoz Miguel attended the University of Valencia where he obtained an MD in 2014 and a Master of Public Health in 2017. From 2015 to 2019 Dr. Muñoz Miguel completed a public health medical residency at Valencia University Hospital. He was a fellow at Charité Universitätsmedizin Berlin and Universidad de La Laguna in San Cristóbal and obtained scholarships for the Johns Hopkins Fall Institute 2018 and the Young Forum Gastein 2018. He is currently pursuing an MSc Forensic Medicine Program at the University of Valencia and is a PhD Candidate the Catholic University of Valenica.

Dr. Muñoz Miguel was Board member of the Spanish public health medical resident association from 2015 to 2017 and lead of the Spanish delegates as well as lead of internships at the European Network of Medical Residents in Public Health in 2017 and 2018.

He is a scientific collaborator at Valencia Per L'Aire, a social platform that aims to increase awareness on air quality and its impact on health and drive policy change through citizen engagement and the use of data as a tool for empowerment. The platform has been successful in engaging in conversation with both politicians and public health authorities at a local level. A project deriving from the platform's activities was awarded with the 2019 Social Innovation grant to carry out a health impact assessment of traffic emissions within the city of Valencia.