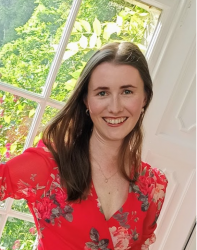 Biography
Dr Eimear Duff is a Senior House Officer in internal medicine at St James's Hospital, Ireland's largest acute academic teaching hospital. As a clinician-academic, she delivers direct patient care, provides tutorials to medical students, and also contributes to research and clinical care at the on-campus Wellcome-HRB Clinical Research Facility.
Dr Duff attended Trinity College Dublin, where she earned a competitive academic Foundation Scholarship; achieved a first class honours degree in Medicine (2017); was awarded Student of the Year in her Masters of Business Administration (2019). She is a member of the Royal College of Physicians of Ireland.
As a doctor with a passion for clinical leadership, health policy and health systems improvement, Dr Duff previously served as an intern with the Leadership, Management and Coordination division of Gavi, the Vaccine Alliance in Geneva. She was appointed as a Senior Researcher with the G7 Research Group. In this role, she interviewed actors at the G7 Biarritz, and met with global health leaders at the 2019 United Nations General Assembly high-level meeting on Universal Health Coverage. Dr Duff also worked as a special assistant to the executive team of Results for Development, a global nonprofit working with change agents around the globe to create strong, self-sustaining health and education systems for all.
Dr Eimear Duff has played a key role on the organising committee for 'dotMD', an interdisciplinary medical humanities meeting with large international attendance. She is passionate about the broader environmental factors which pose a major challenge to health, and at the last DotMD conference, successfully pioneered a collaborative project with Irish Doctors for the Environment (IDE) to make the conference a 'green meeting'. She also has a major interest in physician wellbeing, and is currently Physician Health and Wellbeing Deputy Chair at the Royal College of Physicians of Ireland Trainees' Committee and serves on the National Forum for Doctors' Health and Wellbeing.