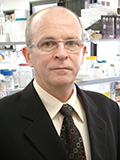 Biography
Rech's research group began improving physical capability to direct introduce genetic information into a living cell and in vitro cell culture technologies to produce proteins for basic and applied research.
His group has pioneered studies on understanding of the process of selecting germ line-transformed leguminous plants and have developed. He has awarded the title of "Comendador" in the Order of Scientific Merit in 2002. Elected Fellow of the Brazilian Academy of Sciences and Fellow of the Academy of Sciences for the Developing World (TWAS).
Currently, his group is focusing in accumulation and expression of recombinant molecules in plants; Expression and Production functional of cyanovirin, a potent HIV inhibitor, in soybean seeds; Genomics of spider silk glands of Actinopus sp. Parawixia bistriata, Nephilengys cruentata, Avicularia sp, Gasterachanta sp.; Design and production of synthetic recombinant spider silk-like proteins; metabolic engineering of soybean seeds fatty acids and glicosilation pathways; Metabolic engineering of E. coli pathway, aiming production proteins larger than 200 KDa; Metabolomics of Lafoensia pacari, Bertholletia excelsa, Acrocomia sp, Caryocar sp,Elaeis guinnensis, Jatropha sp, Ricinus communis; Genomics of oil seed plants, Acrocomia sp, Caryocar sp, Elaeis guinnensis, Jatropha sp, Ricinus communis; Design and construction of synthetic chromosomes; Genomes editing.
His group has had a fundamental role in coordinating the development of Cultivance® soybeans (product derived from BASF and Embrapa's partnership). Soybean seeds are carrying genes conferring herbicide tolerance. A worldwide option for soybean growers and an effective contribution towards reducing GHG emissions. To develop the genetically modified soybean plants Rech utilized his patented invention of an innovative process to produce leguminous plants at high-frequency.