Fides Maria Buenafe
Medical Officer of the Disease Prevention and Control Bureau of the Department of Health and designated as the DOH Deputy Incident Manager, Philippines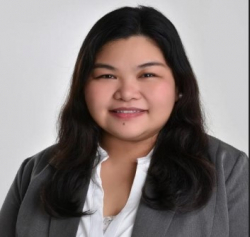 Biography
Dr Fides Buenafe has been serving as a Medical Officer in the Disease Prevention and Control Bureau of the Philippine Department of Health since 2021. In this capacity, she has oversight on various policies and implementation of health services such as those on vaccination, nutrition, and other non-communicable diseases. She has extensive experience in the field of primary care, public health, and health regulation in her previous roles as a Rural Health Physician and as a Medical Specialist in the Philippine Food and Drug Administration.
She holds a diploma in Masters in Public Management – Major in Health Systems and Development from the Development Academy of the Philippines, and is also a Certified Family Physician. She received her degree of Doctor of Medicine from the University of the Philippines College of Medicine.
She is based in Manila. In her free time, she likes to paint and tend to her garden. She is fond of visiting museums and historical places. She also tries to practice minimalism and treasures spending time with family and friends.