Sandra Hoegl
Contacts
Sandra.Hoegl@med.uni-muenchen.de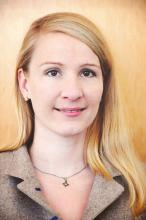 Biography
Dr. Hoegl graduated from the Ludwig-Maximilians University, Munich in 2005, and has done several international medical school rotations in Spain, the UK and USA. After finishing her residency in Anesthesiology and Critical Care in 2012, she completed a two year research fellowship at the University of Denver, USA, made possible by a grant from the German National Academy of Science (Naturforscher Leopoldina). In 2014 she returned to the University hospital in Munich and is currently completing her specialization in Intensive Care Medicine.
Since her doctoral thesis she is interested in the pathobiology and immunomodulating processes during lung inflammation. Her focus lies on acute forms of lung injury, known also as acute respiratory distress syndrome (ARDS), and she studied possible anti-inflammatory agents in different animal models of lung injury. During her postdoctoral fellowship she investigated possible therapeutic options in inflammation and hypoxia occurring during ARDS and extended her knowledge in basic science.
As a physician-scientist Dr. Sandra Hoegl presented her research over the years continuously at national and international conferences and published successfully in different peer reviewed journals. She is also a reviewer for several medical journals, including Anesthesiology, Anesthesia & Analgesia, PLOS One and Critical Care. She trains technicians and students in laboratory techniques, surgical procedures and statistical methods. Besides, she is also involved in the medical education of doctors, nurses and other health staff.
Additionally, in 2011 she was elected into the Employee Committee of the University Hospital in Munich. There Dr. Hoegl is especially engaged in topics concerning protection of data privacy, use of new technologies and social affairs. She speaks up for hospital owned housing space, flexible child care and equal opportunities. The compatibility of work and family and the economic insecurities coming with short-term contracts are problems especially young physicians are facing.
Her future goals are to promote bench to bedside research in Anesthesiology and therefore improve therapeutic options for critical care patients especially after surgical interventions or organ transplantations.