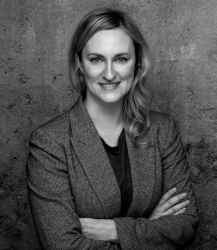 Biography
Dr. Inka Valeska Braun has been working at Bayer since 2018. In her role as a Senior Clinical Pharmacology Strategist, she is responsible for the clinical pharmacological development of new drug candidates in the cardiovascular field and acute care medicine. Furthermore, she has a particular interest in cell and gene therapies and is a member of the new modalities working group of the International Consortium for Innovation and Quality in Pharmaceutical Development.
Dr. Braun received her MD and her doctoral degree from the University of Cologne, Germany. She is currently enrolled in an Executive Master of Business Administration program at the Quantic School of Business and Technology.
She worked as a resident physician in the field of cardiothoracic surgery, where she delivered direct patient care, tutored medical students, and supported several clinical trials. Her scientific focus was on ARDS after cardiac surgery, the risk of cardiac surgery in patients with hematological malignancies, as well as the formation of cell free DNA after cardiac surgery.
Apart from her work Dr. Braun is passionate about the topic of inclusion and diversity. She drove the expansion of an existing global coaching platform for women within Bayer, offering women a way to connect with influential leaders. In 2021 the platform connected 900 women from 50 different countries in over 1400 sessions. Furthermore, Dr. Braun is an active member of the Healthcare Businesswomen's Association - an organization that focuses on the advancement and impact of women in the business of healthcare - and a volunteer for the Women in Healthcare Give Back program 2022.
During the COVID-19 pandemic, Dr. Braun is supporting the local vaccination centers.