Jawad Fares
Contacts
jawad.fares@northwestern.edu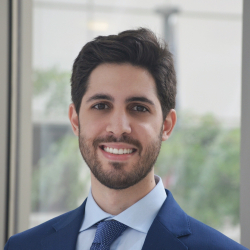 Biography
Dr. Jawad Fares is a physician-scientist and a postdoctoral fellow at Northwestern University. His work is currently focused on finding a cure for lethal brain tumors, while maintaining polyvalent interests in global public health and policy.
Dr. Fares's research on gliomas and brain metastases led to the translation of novel therapies to clinical trials. He led the first-in-human, phase 1 clinical trial that used neural stem cells as a vehicle to infect brain cancer cells with a modified cold virus. His work was published in world-leading journals, such as The Lancet Oncology, Science Translational Medicine, and Brain. Previously, his research on injuries from cluster munitions – bombs that release smaller explosives – led to the "Fares Scale of Injuries due to Cluster Munitions" that assesses injuries based on functional impairment. The scale helped better classify the wounds of victims and determine the best possible treatment. As a culmination of his work, Dr. Fares's perspective on how to deal with cluster munitions as a global health threat was published by the Bulletin of the World Health Organization. As a global health advocate, he developed the "Infodemic Response Checklist" to improve mitigation efforts against the spread of wrongful information during the COVID-19 pandemic. This tool offered a comprehensive health communication strategy to prevent current and future infodemics. Overall, Dr. Fares has more than 90 publications to his name with numerous citations of his work.
In 2018, Dr. Fares was named a Forbes 30 Under 30 honoree in science and healthcare and received the Arab Youth Pioneer Award during the World Government Summit. He was also selected as one of the world's top 10 young scientists by the premier biotech journal, Genetic Engineering and Biotechnology News. In 2019, he featured in the Forbes Middle East 30 Under 30 and received the Lebanese University's Distinguished Pioneer Award. In 2020, he was selected as a Young Scientist of the Lindau-Nobel Laureate meeting.
Dr. Jawad Fares earned his B.Sc. in biology and his M.D. from the American University of Beirut. He also attained an M.Sc. in neuropsychology from the Lebanese University. He further completed a postgraduate medical program in cancer biology at Harvard Medical School.