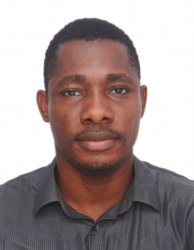 Biography
Dr. Joseph Yaria works at the University College Hospital, Ibadan as a physician. He is currently coordinating an upgrade of the epilepsy and sleep unit, as well working as a clinical investigator in a few NIH funded research projects.
Dr. Yaria attended the University of Ibadan where he obtained a Bachelor of Medicine and Surgery in 2008 and obtained a Master's in Public Health from the University of South Wales in 2020. He was also a Fellow of the National Postgraduate College of Medicine, Nigeria in 2019.
Apart from being involved in normal work-related activities in patient care and research, Dr. Joseph Yaria teaches and mentors undergraduate medical students and postgraduate residents in training. Due to his training in biostatistics, also works as a data analyst and takes time out to give back to the society. The community engagement in the Stroke Investigative Research and Education Network (SIREN) project, participation in the Control Unique to CVDs in LMICs (COUNCIL) initiative, and Stroke Information System pilot community-based initiative are a few examples. He also has over twenty-five publications in peer-review journals with over three hundred citations.