Josephine M. Hill
Professor and Canada Research Chair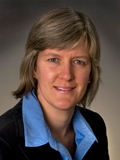 Biography
Dr. Josephine Hill is a Professor and Canada Research Chair in Hydrogen and Catalysis in the Department of Chemical and Petroleum Engineering of the Schulich School of Engineering at the University of Calgary. She received her education and training at the University of Waterloo (BASc and MASc) and the University of Wisconsin–Madison (PhD) and worked for two years at Surface Science Western at the University of Western Ontario between her graduate degrees.
Dr. Hill's research is in the area of catalysis with applications to fuel cells, hydrotreating, gasification, and the conversion of solid waste materials, such as petroleum coke and biomass, into catalysts supports and activated carbon, which can be used to clean up gas and liquid exhaust streams. The spent activated carbon can then be gasified to produce gaseous products, including hydrogen that can be used for hydrotreating and in fuel cells.

She has worked with many companies and serves on the Executive of the Canadian Catalysis Division of the Chemical Institute of Canada (CIC) and on the Board of Directors of the Canadian Society of Chemical Engineering (CSChE).

Her technical and mentoring achievements have been recognized through the Syncrude Canada Innovation Award from the CIC, the Minerva Mentoring Award from the Alberta Women's Science Network, and most recently by the APEGA (Association of Professional Engineers and Geoscientists of Alberta) Women in Engineering & Geoscience Champion Award. Dr. Hill is a member of APEGA, CIC (CSChE), ACS and AIChE.