Karlee Silver
Program Officer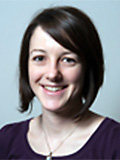 Biography
Karlee Silver is a Program Officer with Grand Challenges Canada. Dr. Silver leads the Women's and Children's Health programs including Saving Brains and the multi-partner program Saving Lives at Birth. She is a member of the Knowledge Exchange Working Group for the Canadian Network for Maternal, Newborn and Child Health.
Prior to joining Grand Challenges Canada, Dr. Silver trained in the laboratory of Dr. Kevin Kain at the Sandra Rotman Centre for Global Health in Toronto, first as a Canadian Institutes of Health Research postdoctoral fellow then a MITACS Elevate postdoctoral fellow, where she helped to identify host responses of malaria infection in pregnant women to harness for diagnostic and therapeutic purposes.
Dr. Silver received her doctorate in 2006 from the University of Oxford, where she attended as a Rhodes Scholar and trained in genetics and immunology under the supervision of Professor Richard Cornall and Professor Sir John Bell. An accumulation of inspirations, including travelling through southern Africa after Oxford, led to a refocus towards global health. Witnessing both the strength of women to sustain their families and communities, and the vulnerability of these same women to the consequences of poverty inspired Karlee to apply herself to health issues of women in developing countries.